25 Aug 2022
Kewtech Sponsored Racing Driver gets a podium finish at Cadwell Park!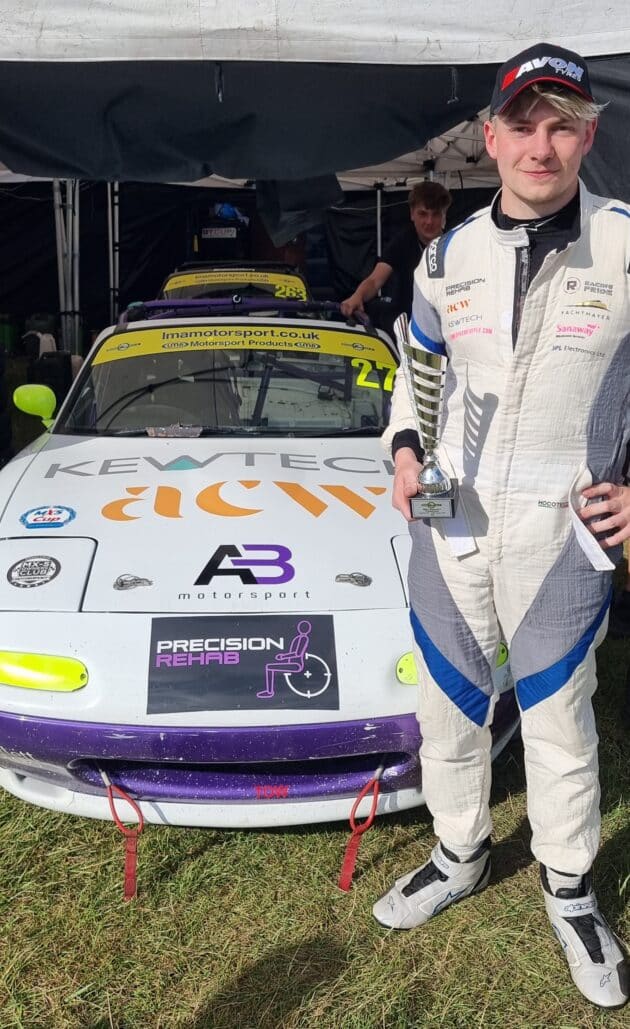 Kewtech Sponsored Racing Driver gets a podium finish at Cadwell Park!
There was fun in the sun at the recent BRSCC Mazda MX-5 Championship race weekend at Cadwell Park in Lincolnshire for Kewtech sponsored racing driver, Luke Pullen.
Twenty-two year old Luke has been sponsored by Kewtech since his rookie season in the Mazda MX-5 Championship in 2020 and has progressed from placing just outside the top ten in his first season amongst an experienced grid of 40+ drivers, to finishing 7th with a couple of podiums in the bag at the end of the 2021 season.
Having battled some technical and mechanical issues, and more than his fair share of racing bad luck for the first half of this year, he has still finished most races this season in the top ten and even snagged a 3rd place podium at Snetterton at Easter. At Cadwell, with the car performing well, he was really able to show what he could do and achieved his best results weekend to date.
Luke achieved three top 5 finishes – placing 4th, 5th and winning a 3rd place podium trophy over the three twenty minute races.
Following the race, Luke told us…
"It was great to be back at Cadwell Park as it was where I had my first ever race back in 2020", said Luke, "it was extra special to be able to perform so well there and to get a podium was even sweeter. I can't thank Kewtech enough for all their support and I am hoping for a strong finish to the season with just two more race weekends to go."
Follow Luke's progress
Luke's next races are at Donington Park on 24th & 25th September and the season finale, back at the Snetterton 300, on 15th & 16th October.
You can follow his progress and all the action as it happens on the BRSCC.tv YouTube Live Stream:- https://brscc.co.uk/brscc-tv/
You can also follow him on social media for updates and reactions:-
Instagram: https://www.instagram.com/lukey_pullen/
Facebook: https://www.facebook.com/LukePullenRacing