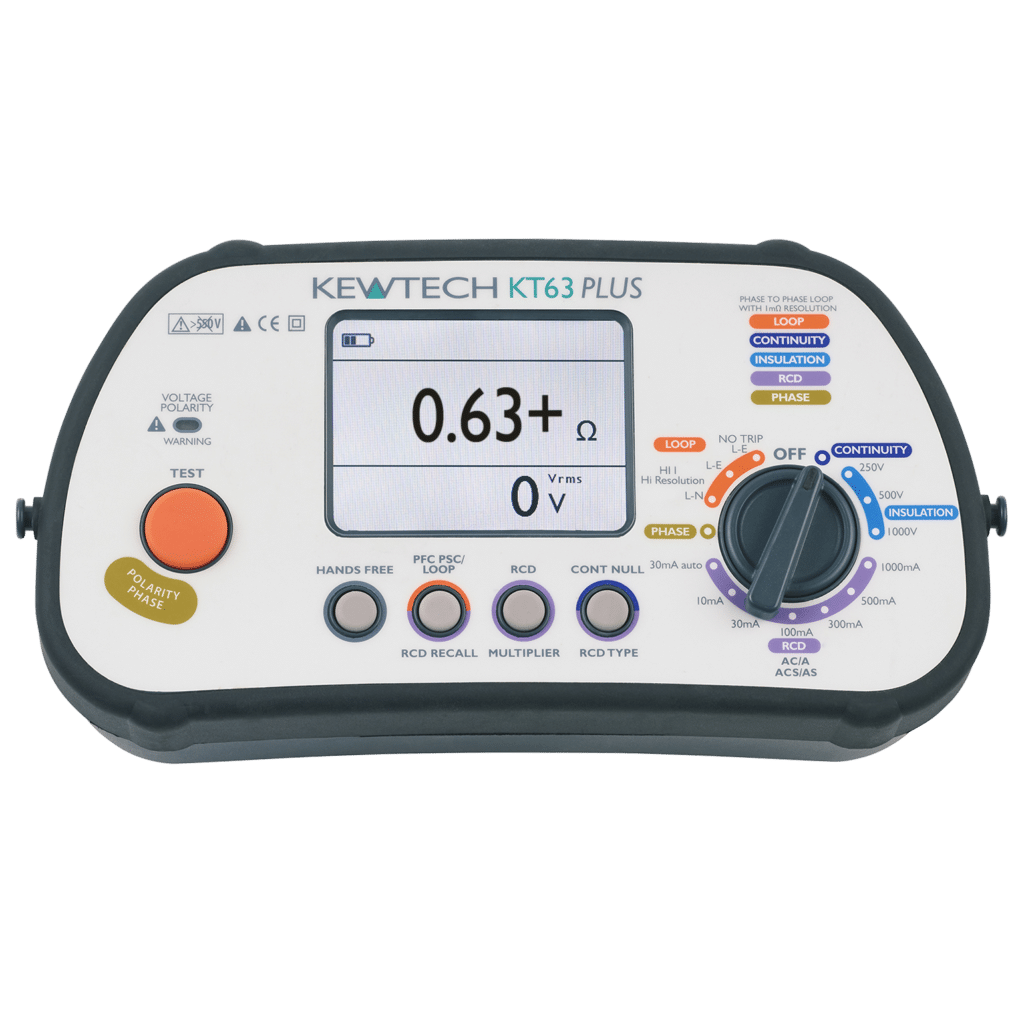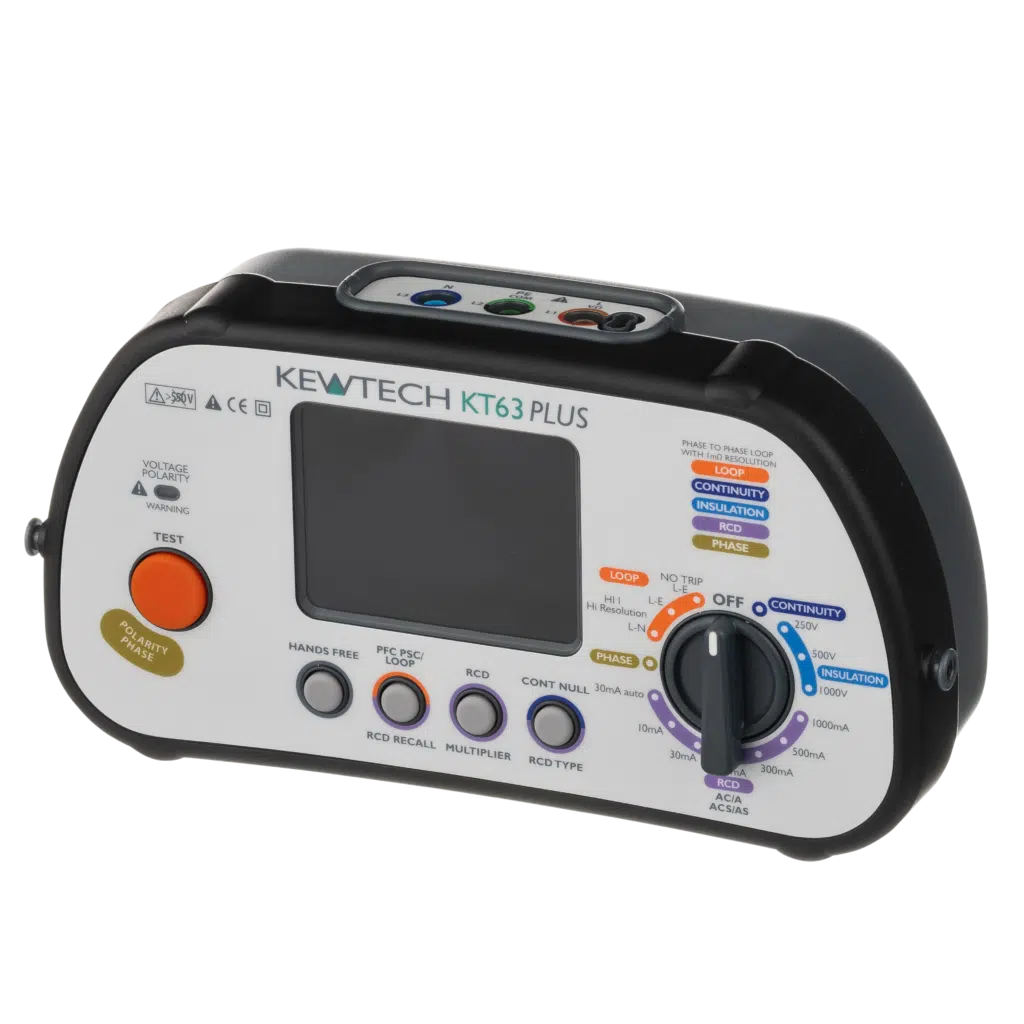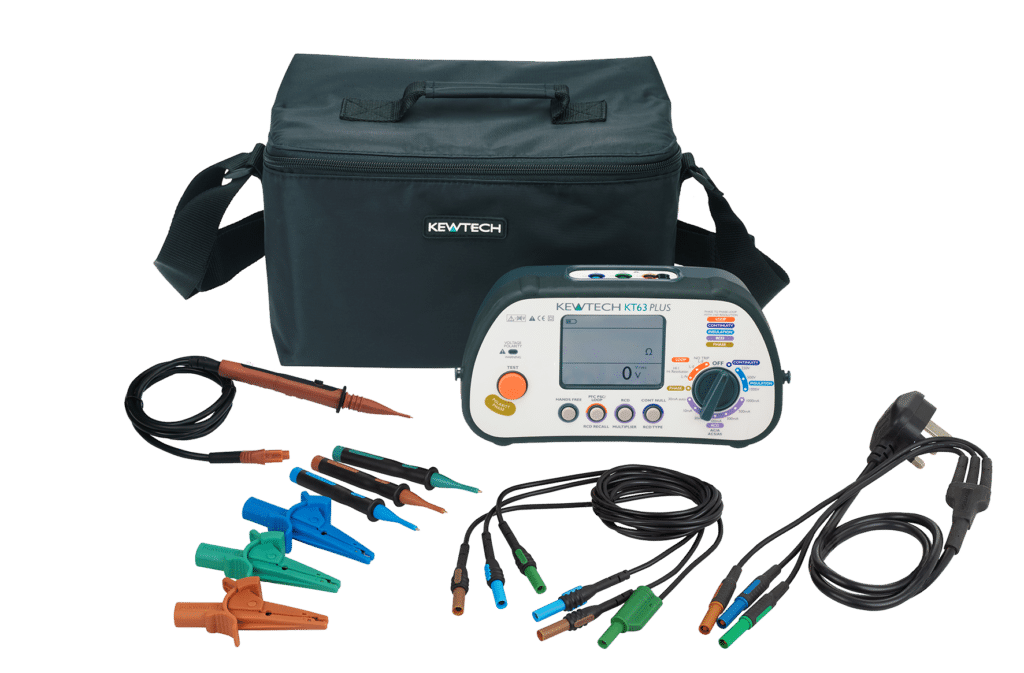 KT63PLUS
The versatile and easy to use KT63PLUS Multifunction Tester with XL colour screen display.
Extra-large colour dot matrix screen display
Auto RCD tests with results all on one screen
High current 0.001 ohm resolution
Overview
The KT63PLUS multifunction tester builds on the popular KT63DL boasting an extra-large colour screen dot matrix screen which gives more freedom displaying results including the phase rotation screen displaying rotating discs.
As with all Kewtech testers, the loop test is robust and has a very low susceptibility to electronic noise. In addition to the low and high current 0.01 ohm test there is a high current 0.001 ohm option as well.
The RCD tests cover type AC, A and selective versions with an auto-test where all the results are displayed on the screen at the same time…so no need to scroll.
There are three ways to start a test…a single press of the test button, setting the 'hands free' option which results in continuous testing or with the use of the additional test lead with the remote test button.
Key Benefits
Easy to use interface with single rotary dial and extra-large colour dot matrix screen
Auto RCD tests with results all on one screen - no scrolling
Constant live voltage detection protects when dead testing
No Bangs – continuous live monitoring means no blown fuses or PCBs
Anti-Trip Technology for full no trip Loop testing on all RCD types with very low susceptibility of RCD uplift and noise interference
Electronic 'hands free' lock down test button and test probe with remote test button
Backlit screen display
IP54
End of line calibration certificate
Comes complete with soft carry case, mains lead, distribution board leads, remote test probe and padded neck strap
Key Features
Continuity - switchable buzzer and auto null
Insulation - 250, 500 & 1000V with auto discharge
Loop ATT low current
Loop high current 0.01 ohm and 0.001 ohm resolution
Phase to phase loop test & 55V loop test capability suitable for 110V CTE systems
PSC/PFC - clear indication of what is being tested and without the need to alter test probes
RCD - Type AC, A, ACS, AS, auto & ramp
Type AC RCDs - 10, 30, 100, 300, 500, 1000mA
Type A RCDs - 10, 30, 100, 300mA
Phase rotation
Special DNO polarity test
Memory for test lead resistance compensation