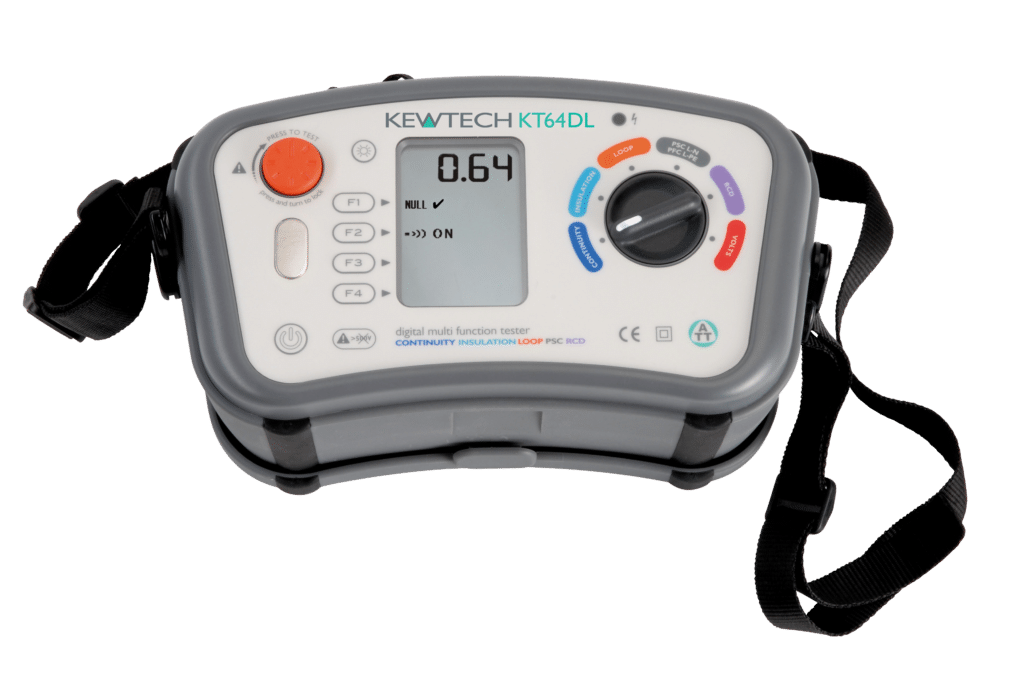 KT64DL
The KT64DL is a domestic and commercial Multifunction Tester boasting the best loop performance against RCD uplift and electrical noise.
Loop – ATT (low current), high current 0.01 ohm resolution
Auto RCD tests with all results on one screen
Best loop performance against RCD uplift and noise
Overview
The KT64DL Multifunction Tester has the feature set to test domestic and commercial installations and has a well-earned reputation for reliability, repeatability and ruggedness.
Kewtech's loop circuits are all well designed to overcome noise, RCD uplift and contact resistance and the KT64DL is no exception.
The KT64DL is now a discontinued model but can still be purchased from a number of wholesalers and Kewtech distributors. The superseding model is the KT63PLUS.
Key Benefits
Easy to use with straight forward interface
Best loop performance accuracy when benchmarked against other brands
Auto RCD tests with all results on one screen
No Bangs - continuous live monitoring means no blown fuses or PCBs
Advanced memory means that you can tag a measurement to a site, distribution board, circuit number and type of test - for instance was that loop test a Ze or Zs?
Anti-Trip Technology for full no trip Loop testing on all RCD types with very low susceptibility of RCD uplift and noise interference
Constant live voltage detection protects when dead testing
Test probe with remote test button as well as lockdown test button for 'hands free' testing
End of line calibration certificate
Comes in a soft carry case with mains lead, distribution board leads and remote test probe
Key Features
Continuity - switchable buzzer and auto null
Insulation - 250, 500 & 1000V with voltage warning LED
Loop - ATT (low current), high current 0.01 ohm resolution
Phase to phase loop test
Easy PFC & PSC measurement with clear indication of what is being tested
RCD - Type AC, A, ACS, AS, auto & ramp at 10, 30, 100, 300 & 500mA
Auto-test memory for RCD testing with all results shown on one screen, so no scrolling
Phase Rotation
Memory for test lead resistance compensation
Polarity check