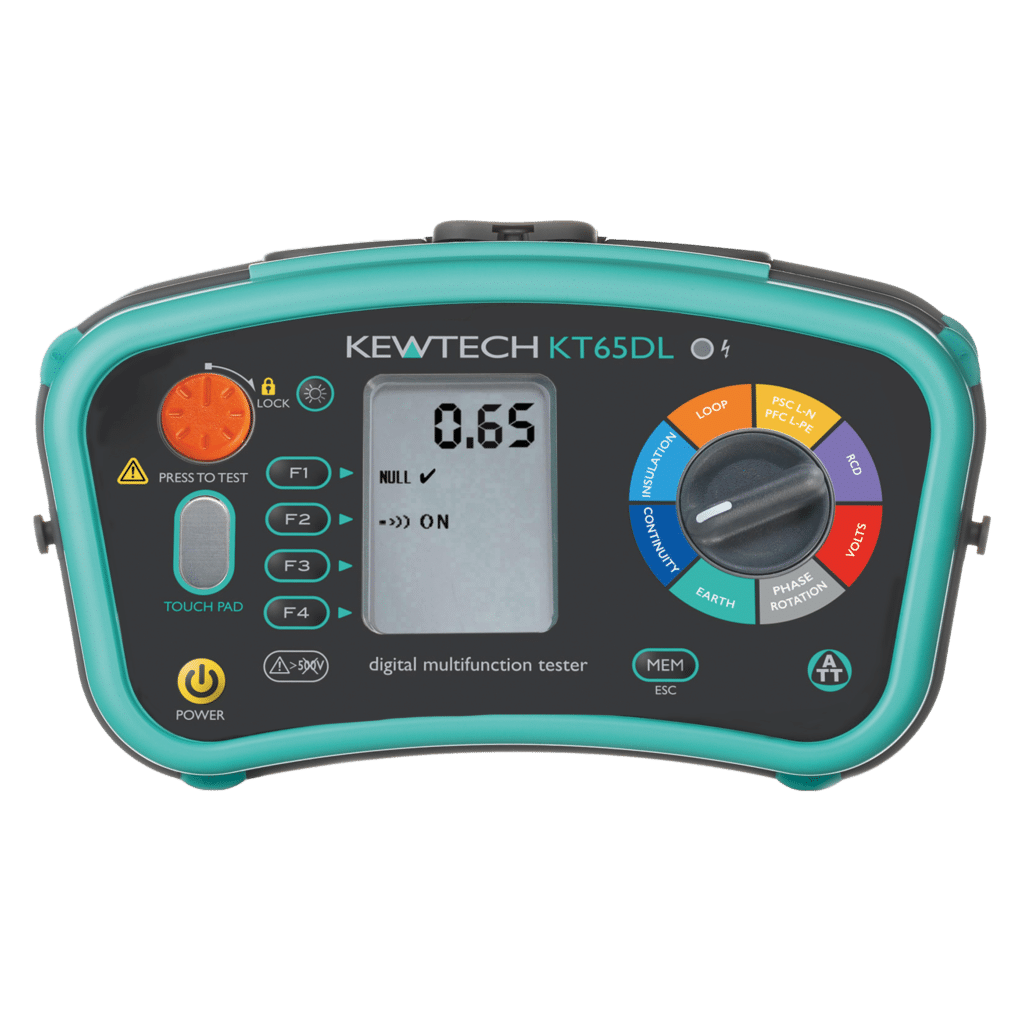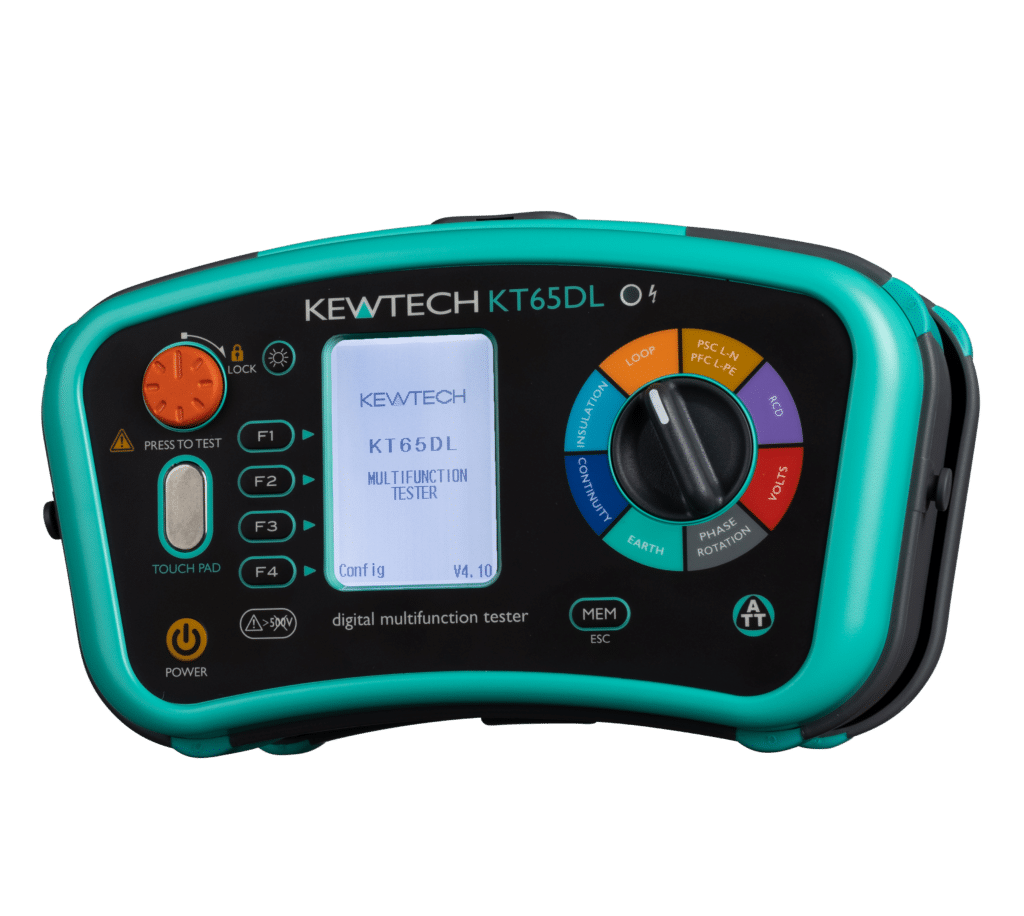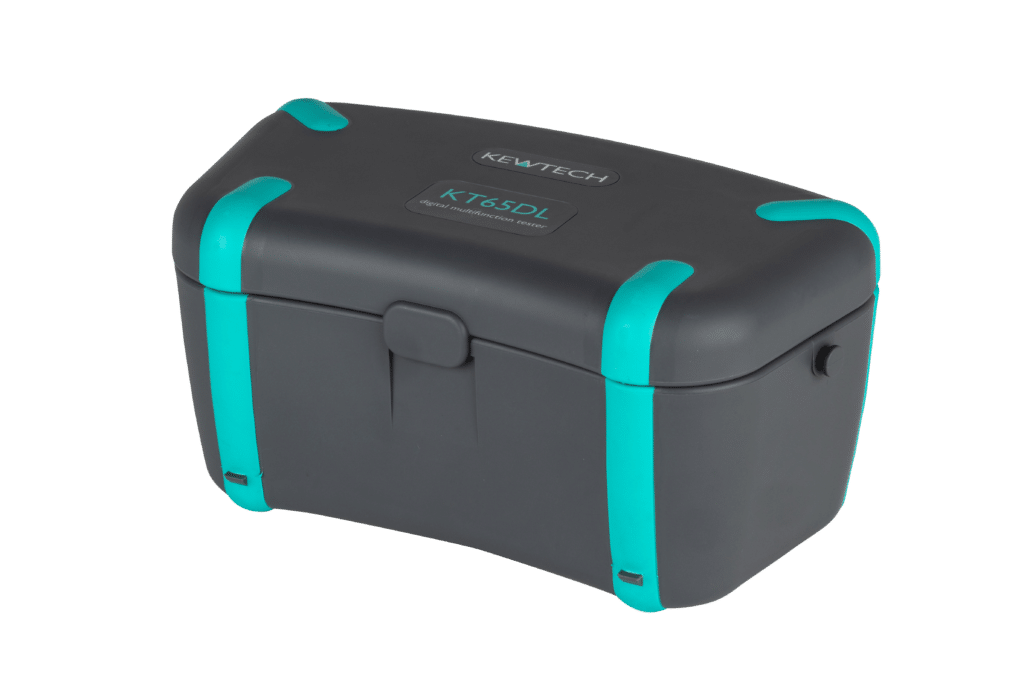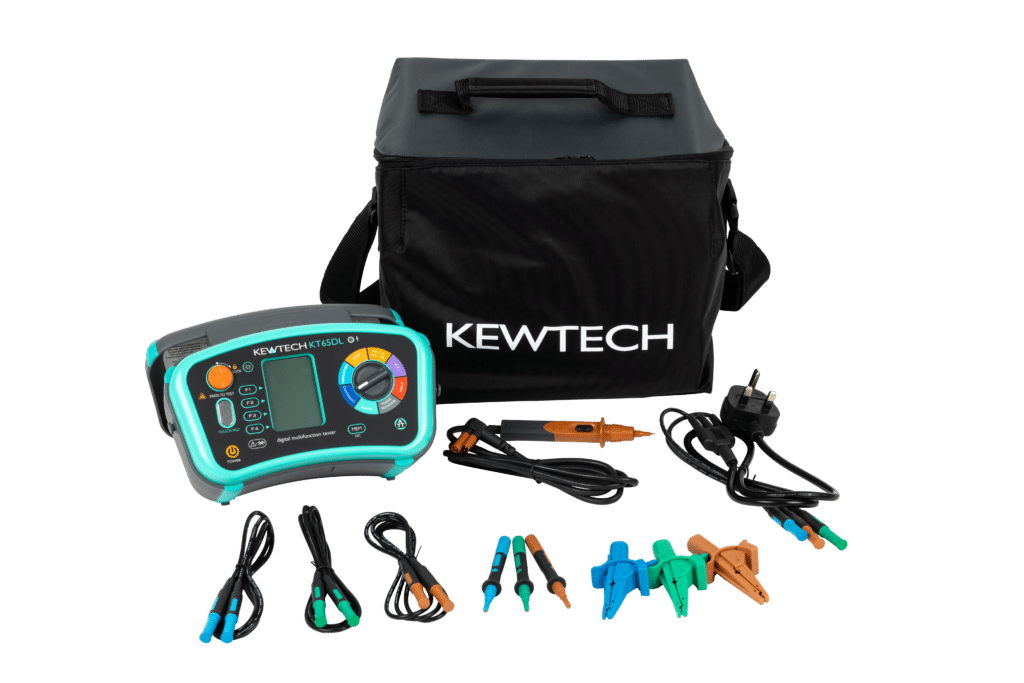 KT65DL
The KT65DL is an advanced Multifunction Tester complete with earth resistance testing, a 0.001 ohm high current loop test and max Zs tables.
Loop – ATT (low current), high current 0.01 & 0.001 ohm resolution
Auto RCD tests with all results on one screen
Earth resistance testing
PAT testing function with download facility
Overview
The KT65DL advanced Multifunction Tester has the feature set to test domestic, commercial and industrial installations and has a well-earned reputation for reliability, repeatability and ruggedness.
Kewtech's loop circuits are all well designed to overcome noise, RCD uplift and contact resistance and the KT65DL is no exception. This tester also offers 0.001 ohm resolution in high current mode and max Zs tables including the 80% rule.
For PAT testing use the PAT ADAPTER1 and for earth resistance testing use the ACCES KIT.
The KT65DL comes with CD-ROM software but if you would prefer to download the KEW REPORT software you can do so here…Download Software.
Key Benefits
Easy to use with straight forward interface
Best loop performance accuracy when benchmarked against other brands
0.001 Ohm high current loop test for when you are close to the supply transformer
Auto RCD tests with all results on one screen
Selectable Max Zs tables for MCBs and Fuses so you can automatically compare with measured result on site
No Bangs - continuous live monitoring means no blown fuses or PCBs
Advanced memory means that you can tag a measurement to a site, distribution board, circuit number and type of test - for instance was that loop test a Ze or Zs?
Anti-Trip Technology for full no trip Loop testing on all RCD types with very low susceptibility of RCD uplift and noise interference
Constant live voltage detection protects when dead testing
Test probe with remote test button as well as lockdown test button for 'hands free' testing
KT65DL / KT66DL - only MFT's on the market to have a built in lid to protect your screen from damage, water and dust ingress
End of line calibration certificate
Comes in a soft carry case with mains lead, distribution board leads, remote test probe and software
Key Features
Continuity - switchable buzzer and auto null
Insulation - 250, 500 & 1000 V with voltage warning LED and auto discharge
Loop - ATT (low current), high current 0.01 & 0.001 ohm resolution
Phase to phase loop test & 55 V loop test for CTE transformers
Easy PFC & PSC measurement without the need to alter test probes
RCD - Type AC, A, ACS, AS, auto & ramp at 10, 30, 100, 300 & 500mA
Auto-test memory for RCD testing with all results shown on one screen, so no scrolling
Phase Rotation
Earth resistance facility (ACCESKIT - optional earth spike kit)
Memory for test lead resistance compensation
PAT testing function with download facility
Polarity check
Advanced memory with free software