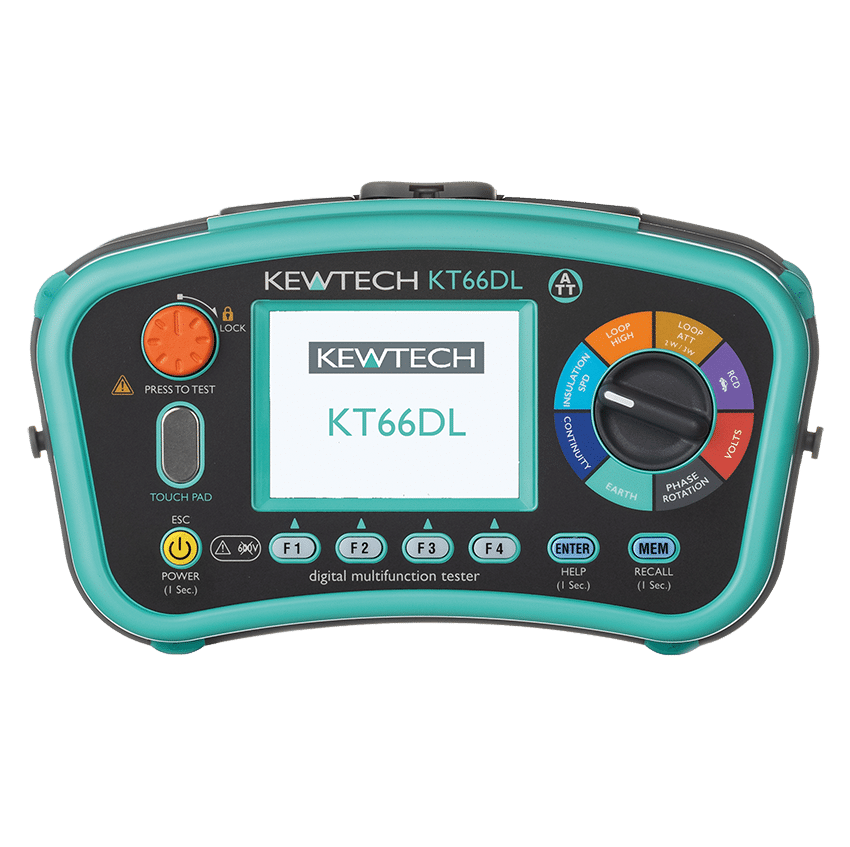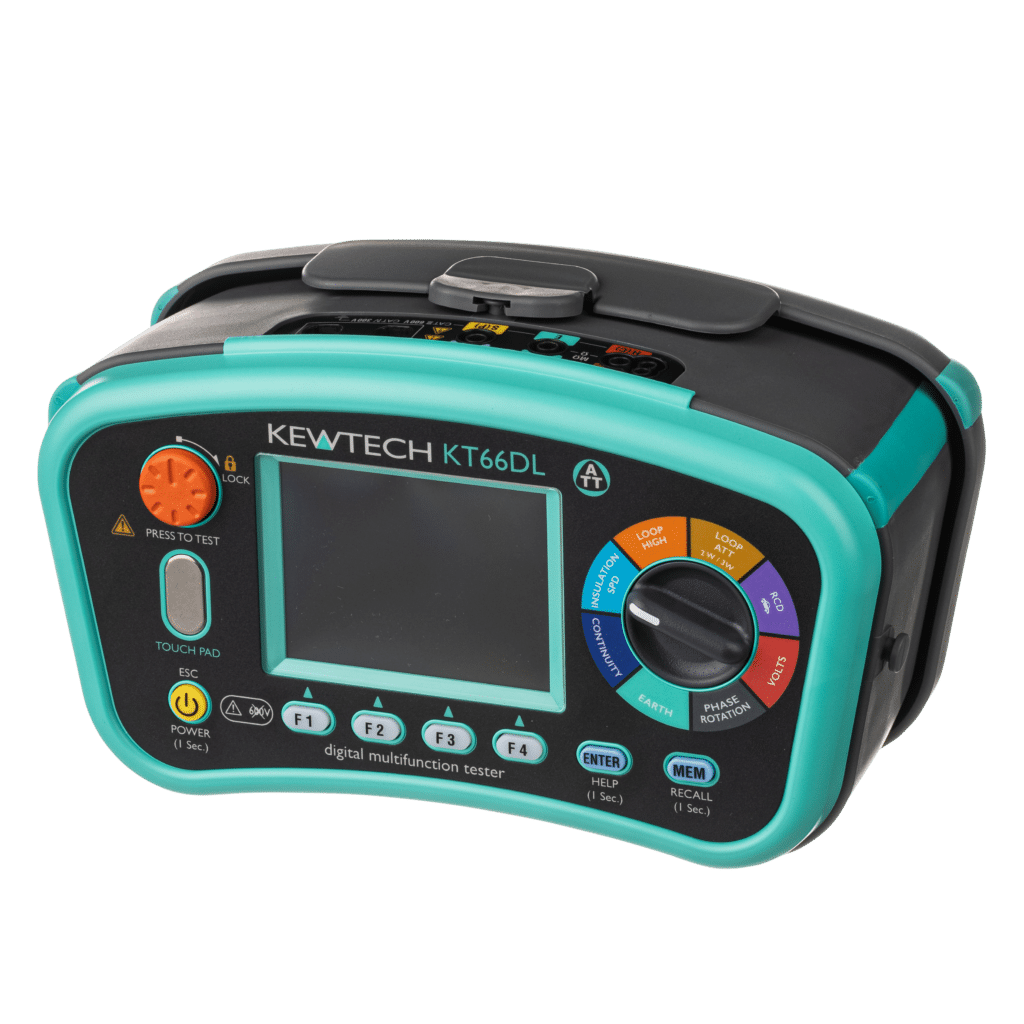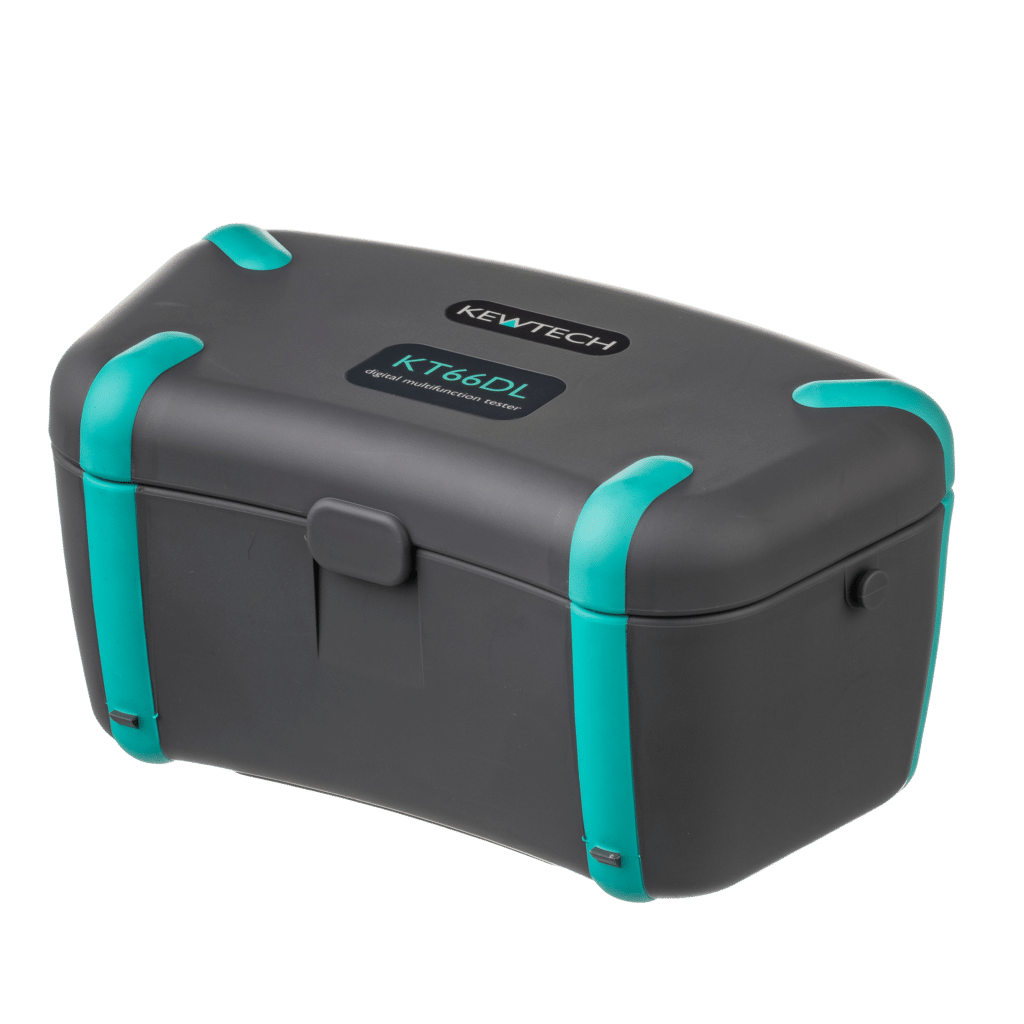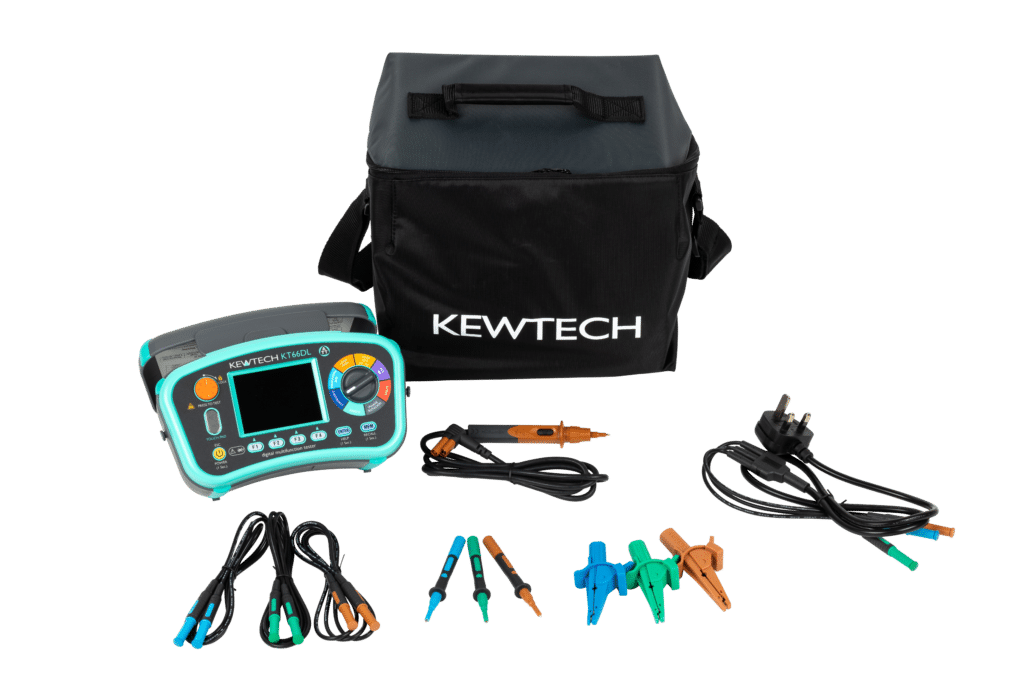 KT66DL
The most comprehensive multifunction tester on the market complete with 3 & 2 wire low current loop options and EV testing facilities.
Extra-large colour dot matrix screen display
EVSE testing (Type B, EV & 6mA)
3 & 2 wire low current loop test options
Overview
Our new KT66DL 12-in-1 multifunction tester is the ultimate tester, bringing you accuracy and performance like never before. Engineered with a pioneering sophisticated loop testing system, including 3 & 2 wire low current test options and a comprehensive RCD testing facility complete with EV charge point test capacity, the KT66DL has it all.
As important as its illustrious list of features, the KT66DL multifunction tester exhibits all the hallmarks of Kewtech's quality, reliability and ease of use.
The KT66DL comes with CD-ROM software but if you would prefer to download the KEW REPORT software you can do so here…Download Software.
Key Features
Two high current loop options: 25 A 0.001 Ohm resolution & 6 A 0.01 Ohm resolution
Two low current loop options: 3 wire & 2 wire
55V loop test capability - suitable for 110V CTE systems
EVSE loop option
RCD - Tests Type AC, ACS, A, AS, F, B, BS & EV
EVSE 6mA DC ramp and tripping time test
UC - contact voltage test
Simultaneous display of L-PE, L-N, N-PE voltage (TRMS)
True RMS Voltage measurements 2-600V, mains frequency
Insulation test: 4 test voltages, resistance bar graph & DAR / PI functionality
Two continuity tests 200 mA & 15 mA
Dual display of PFC / PSC with a PFC range of 50KA
SPD testing with both DC & AC breakdown voltage displayed, 1000V range
Earth resistance 3 & 2 wire options
Phase rotation
PAT function including download
Advanced memory
Key Benefits
Large colour dot matrix screen
Established easy to use interface with one rotary dial and four function keys
Simultaneous display of L-PE, L-N, N-PE voltage (TRMS)
Max Zs tables for current and old standards
Comprehensive RCD function including type EV & B and variable RCD test
Three modes of starting a test: single press of the test button, continuous testing and by test button in the test probe
Advanced memory - assigns DB, circuit number and type of test i.e. Zs or Ze
Help display on all settings
Touch voltage pad with selectable limits
KT66DL / KT65DL - only MFT's on the market to have a built in lid to protect your screen from damage, water and dust ingress
Comes complete with soft canvas bag, mains lead, distribution board leads, remote test probe, padded neck strap and software
SAFETY: IEC 61010-1 CAT IV 300 V, CAT III 600 V. IEC 61557- 1,2,3,4,5,6,7,10